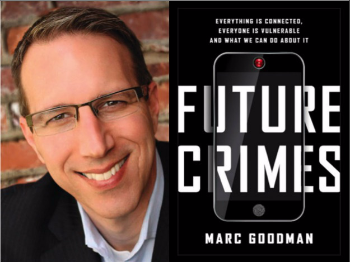 The internet has made the world smaller by providing people inter-connectivity and information in an instant. But it also has its dark side posing greater challenges and risks to every person in the world.

How do we protect ourselves from the dangers of cyber security? How do we make social media and computer programs more secure? These and other questions will be tackled during the one-day Cyber Security forum organized by Global Chamber® Manila.

Topbilling the forum dubbed "Forum on Cyber Security & The Internet of Things" is web expert Marc Goodman, author of the best-selling book "Future Crimes". He will discuss the many technological advances of the cyber world and its many pitfalls.
Mr. Goodman is a global strategist and consultant focused on the profound change technology is having on security, business and international affairs. He is the founder of Future Crimes Institute and Chair of Policy, Law and Ethics at Silicon Valley's Singularity University. Over the past twenty (20) years, he has built his expertise in international cybercrime and terrorism working with organizations such as the Interpol, the UN Counter-Terrorism Task Force, NATO and the US Government.
The one-day event will be held on Wednesday, January 31, 2018 from 9:00 am to 5:00 pm at the Enderun Colleges in McKinley Hill, Taguig, Metro Manila.
According to Colin Christie, Executive Director of Global Chamber® Manila, they expect more than 250 representatives from both the public and private sector, including government officials and members of the academe, to attend the event.
"We hope to use this occasion to provide Filipinos with a better grasp of recent developments in the automated age as well as the technologies and best practices to help everyone protect themselves and their systems from attack and unauthorized access," Christie said.
Global Chamber® is a thriving community of CEO's, executives, professionals and students in over 500 metropolitan areas around the world. We leverage technology and utilize our collective networks worldwide to help member companies grow by reducing risks, become more productive and succeed faster.
For more information on the event, please log on to (https://www.facebook.com/events/189509238284540/?ti=cl) or www.pilipinascon.ph.